The Sunday outing to Cape Schanck was looming and after spending most of the day before at Geelong with Vicki and Rosie judging their end of year competition, I was not looking forward to the early rise on Sunday. As it happened I awoke at 4am and couldn't get back to sleep so I was actually standing in the street waiting when Stephen arrived at 5.15am.
Now all the way there Stephen and I wondered how many people would actually turn up and I kept reassuring him that there would be at least two of us. We pulled into the car park at 6.20am and immediately realised that there were two cars there already and John Ho, Anthony Yap and Richard Dabbous were eagerly awaiting others to arrive. in the next few minutes another stream of cars arrived and then there was 16 of us, what a superb turn out.
We organised ourselves and started the dark walk down the boardwalk to Pulpit Rock. Some people stopped to take shots of the lighthouse as its slow rotating lights streamed through the low cloud. I gave this a try too but to get the dark foreground with any detail, the lights were just blowing out completely. I therefore continued my way down slowly negotiating the slippery walkway. The light was just appearing as I arrived where everyone else was and one look at the sea and I knew we were in for a treat. The waves were breaking over the rocks and the tide was perfect. It is quite eerie looking across the rocks at waves that are quite a bit higher than where you are sitting with your expensive camera gear but luckily they were dissipating well before they got where we were located.
We had a bit of a wait before the light started to come good and in fact it went really flat at one point so we were a little anxious to say the least but once the sun rose over the cliffs, Pulpit Rock just lit up beautifully and so did the waves.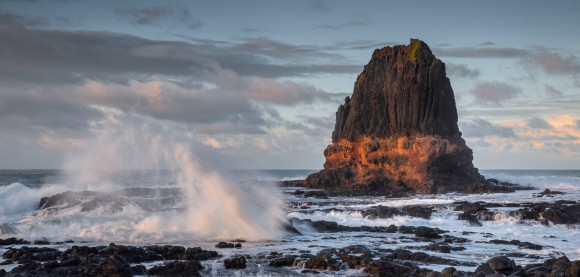 We stayed for a good while before retiring back to the car park and heading off to Flinders for Brunch. I even managed a wildlife shot back at the car park and even though nobody had any idea what sort of bird this was, I enjoyed capturing it just the same. it turned out to be a Golden Whistler I think.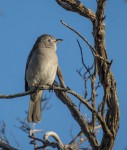 Now in the true tradition of WCC outings, we ran into trouble after we had eaten at Flinders. The car park that I had suggested that we all used which I presumed was a public car park and there are no signs to the contrary saw us all come under a hail of abuse from the Fish and Chip shop owner who was yelling and shouting at us for not using his shop, I wonder why we didn't use his shop!!! we certainly won't in the future. So here is a hot WCC tip, don't use the fish and chip shop at Flinders, the owner doesn't like us. Once this shop owner had retreated to his shop after some of his locals asked him to calm down, we moved down to the Flinders Jetty.
After spending around 45 minutes here we traversed the WCC convoy through the golf course and on to 'The Blowhole' just down the coast. This was a little disappointing, there were a lot of people here and not much blowhole action at all. So it was on to the 'Kings Waterfall' which is located at the back of Arthur's Seat. This turned out to be a King's trickle and the usual Parks Victoria useless viewing platform. Although we were entertained when we looked across the ravine to see Anthony half way down a steep banking trying to get shots of the waterfall (trickle). After this, a few people wanted some lunch so we had a quite entertaining session in the Pig and Whistle before having a quick look at Seawind's Gardens. Unfortunately the clouds had appeared and the light was flatter than the water in the bay. So it was on to Arthur's Seat to find that the view is now obscured by trees.
Sunset was out so the remaining people decided to get a few last shots at the viewpoints below Arthur's Seat and then forget sunset as the light was gone. Overall I had a great day out, some good and some not so good photography but great company.
There are other photographs from the day in the gallery HERE Please have a look and comment if you feel the need, I'm sure that the less experienced amongst us would appreciate your feedback.
Next outing is a trip to the snow and details will be sent out soon I hope.
Thanks
Dave Sumner
WCC Secretary