Tuesday 3rd Dec was WCC's End of Year Function which had a new format this year. We combined End of Year Night with the Xmas Dinner and had one big function with a heavily subsidised meal. The night went very well with 81 members attending, which has to be some sort of record. I know that a few years ago when we had to move the competition nights to the Craft Room because Wadham House was full, I remember thinking we'll never fill this room and now we are packing out the Main Hall, where to next Jeff's Shed, MCG???
There was a lot of effort went into making last night a success and the committee deserve a big thanks for the effort put in to make the night run as smoothly as it did and also a big thanks to all who helped clean up afterwards. However, there is one big thank you that has to be said again and that is to Paul Spence, the club's new president without who the night would not have gone so well. His relentless efforts with AV's, slideshows and Brownlow type scoring just made the night go so well. We must also say a very very large thank you to Danny Beganoff and CR Kennedy's who so very kindly donated all of those raffle prizes. Danny goes to great lengths to support the club and we are all pleased that he could turn up and join us for the evening.
There were quite a few funny comments made during the night but the best thing of all was Stuart giving Andy a kiss on the head, his face is just a picture.
Of course the night wouldn't have been a success without the members and their relentless efforts to enter the monthly competitions. The skills of the members just shone out from the screen and the prints on the table, it really is a talented group we have. Of course not everyone can be a winner and not everyone can win the coveted 'President's Trophy', but Fred Seeber did and not for the first time either. This and AV's are obviously Fred's forte, well done Fred and watch those glasses in my coffee.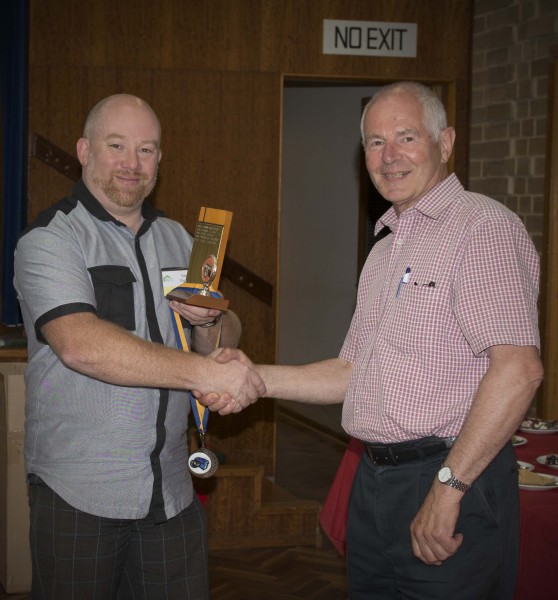 Now of course the night is all about the End of Year Competition and the three categories for this, EDI Images, Open Prints and Mono Prints and there is one name mentioned about three times too many but nevertheless, it is what it is and here are the winners of the EoY competition as judged by Stuart De Silva and Landon Abbot of S M L XL
Mono Prints
3rd: Dave Sumner – Pull Up
2nd: Dave Sumner – A Dying Trade
1st: Anthony Yap – JOSHUA
Open Prints
3rd: John Hadfield – Wonder World
2nd: Vicki Mortiz – Kerford-Rd-Pier
1st: Andy Armitage – RanthamboreSambar
Open EDI
3rd: Rosie Hughes – APPROACHING STORM
2nd: Richard Dabbous – SHOULD WE
1st: Dave Sumner – Up Early
Of course, President's Trophy and the End of Year Competition aside, we had the aggregate winners for the year and it was a hotly contested affair this year especially in A Grade. I have to say, watch out Vicki Rosie and Pete, Cuc Chong and Anthony Yap are coming to win your trophies from you next year. But joking aside, we have some of the best amateur photographers in Victoria and dare I say it, Australia in our club and we are very lucky to have even more talent on the way up. All that said here are the winners of the aggregate points for 2013.
A Grade Print – Rosie Hughes
A Grade EDI – Pete Davies, Vicki Moritz
B Grade Print – Craig Francisco
B Grade EDI – Craig Francisco
I'm sure that you will agree that this was one of the best events we have ever held so we may see it repeated next year, fingers crossed. Also if this is what we're doing at the end of this year, goodness knows what 2014 is going to be like, it looks very promising indeed.
From all of the committee, I would just like to say a very big thank you to all of our members for their support throughout 2013 and we look forward to seeing you next year. Have a very merry Christmas and a joyous New Year and may your Canon camera wishes come true, especially yours Cookie.
See you in 2014
Dave Sumner