Another great night for WCC at the Eastern Interclub which just keeps getting better and better every year thanks to Adrian Smith of Maroondah PS. The judge Paul Robinson gave a quick run down of his thoughts on the entries before handing over to Adrian for the usual slideshow of entries and winners. Nine clubs had been invited to participate, one of which missed the entry and one didn't reply leaving seven clubs to contest for the trophies as follows:
Ringwood B&W, Yarra Ranges PS, Waverley CC, Knox PS, Eastern Suburbs PS, Maroondah PS & Doncaster CC.
As the images scrolled through on the slideshow, it became clear that competition was going to be quite strong and we could only hope that we had strong enough entries. The contingent of WCC Members sat with eager anticipation as the results came up one at a time. We didn't need to worry that much because Vicki picked up 2 merits in the Print section for Foggy Dawn Val D'Orica & Eildon Morning Mono. In the EDI section, Felix picked up 3rd place with his image SAND but Paul Spence trumped that with a 1st Place for CHIVALRY. In the all new B&W EDI section Anthony placed 2nd with ALVIN but was unfortunately pipped by Stephen with a copy of my image  RIDING THROUGH which picked up 1st Place.
Well done to these individuals for their excellent results but, don't forget that this is a team competition and Waverley picked up the trophies for the overall scores in EDI and B&W EDI the points being as follows: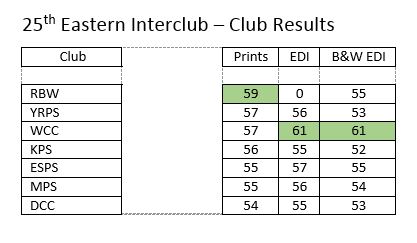 Thanks again to everyone who entered and the image selection crew who made this all possible.