This month Ross has organised a real cracker where there will be something for everyone, you can shoot street photography, wildlife in the wetlands, panoramic sunrise and sunset shots of the beautiful volcanic countryside and maybe even a photojournalistic shot or two in the town. August will be an overnight stay or just Saturday or just Sunday depending on how you feel, I know I am staying overnight and I can't wait. Please follow Ross's instructions below the poster and read them carefully please: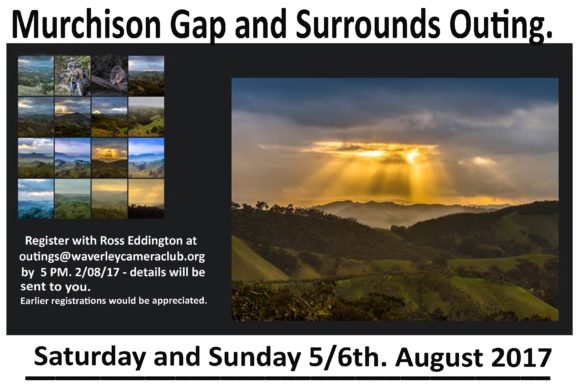 Saturday 5/08/17:
02.30PM:                         Meet at Yea township.
AFTERNOON:                Check out Sunset and Sunrise locations.
04.30PM:                         Set up for Sunset Shoot. (Sunset at 5.35PM.)
07.30 to 8PM:                Arrive for dinner at the pub (Country Club Hotel – Yea).
Nye nyes .
Sunday 6/08/17:
06.15AM:                        Meet at Murchison Gap for Sunrise Shoot (Sunrise 7.13AM)
09.30AM:                       Breakfast at Marmalades (quirky cafe). Built in 1887 and was a grocers.
10.30AM:                        Wetlands Shoot at Yea.
Lunch if anyone is up to it!
A WCC experienced photographer will be on hand to help with camera settings and provide helpful advice.
Please register with Ross Eddington at outings@waverleycameraclub.org
by 5PM. Wednesday 2/08/17 please – more details will be sent to you.
(Earlier registrations would be appreciated.)
***VERY IMPORTANT READ BELOW***
Please arrange your own over night stay as soon as possible; there is limited accommodation available in Yea.
Food for thought:
Yea Motel at $120 a Double, Singles $99 Ring Christine 5797 2660 and mention WCC.
Riverside Caravan Park at $125 for Studio Cabin Ring 5797 2972.
Peppercorn Hotel About $150 Ring 5797 2000.
Tartan Motel $? Ring 5797 2202.
Royal Mail Hotel $? Ring 5797 2515.
Cheviot Cottages $? Ring 5797 2617.
Some members may prefer not to stay overnight or are unable to attend the complete Outing. If so could you please let Ross know so that meal bookings can be managed.
If you have any questions, please email Ross at outings@waverleycameraclub.org