I hope that you will all agree with me that last months judges Fiona and Andrew were absolutely brilliant and we were very honoured to have them judge for us at our humble little club. This month we really do need to be rolling out the red carpet because the calibre of judges coming to our club is absolutely astounding and it is all a big thanks to Peter Myers and of course the judges themself.
The judge for September stands up there as one of the best wedding photographers IN THE WORLD, Nick Ghionis. Nick travels the world taking images and talking to audiences so we are very fortunate to have volunteer his time to judge our images. Here is Nick's biography and please feel free to click the logo at the end to visit Nick's Site:
Nick Ghionis is an extraordinary talent and one of Australia's most sought after wedding photographers. WPPI 1st place WINNER for the past three years ( Bride and Groom, Fashion and Science and Industrial) Also winning first place in the humour category in wedding the same year . His multi award winning photography both nationally and internationally, sees him at the helm of XSiGHT photography, one of the most respected wedding & portrait studio's in Australia. Nick's passionate approach to photography and business makes him an industry leader that has seen him at the top of his field for the last 10 years. His glamorous and emotive images, are admired by his clients and peers alike.
Nick along with his wife Sharifa are the owners of the flourishing wedding and portrait studio: XSiGHT Photography based in the inner Melbourne suburb of Fairfield.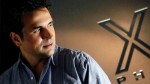 Wedding photography and portraits remain Nick's great love, giving him scope to be creative and to work with people. "…Wedding photography gives a photographer the privilege of being around people at very intimate moments. We are invited to share and capture the moments, moods and events that surround a wedding. It's so much more than just the wedding ceremony, it's the joy and tension that goes into that event and the celebrations that follow…" Nick says of his successful XSiGHT business