Archive for December, 2012
by Dave Sumner on Dec.06, 2012, under Special interest groups
Hi All,
The AV Group are having a casual get together next Tuesday 11 December 2012 ( Wadham House 7.30 pm) to discuss the groups proposed activities for next year. If you have ever considered joining the group or wondered if it was for you, why don't you come along and see?
AV's are a fast growing specialist skill within the photographic community with VAPS sanctioned competitions now a regular event.
You will find attached to this email a brochure setting out the proposed 2013 learning schedule for your perusal.
In addition to learning the practical skills required to produce an AV, members of the group also show AV's they have prepared and provide each other with valuable feedback and encouragement.
If you think you might be interested in joining the AV Group next year please join us next Tuesday. If you would like some more information email Paul Spence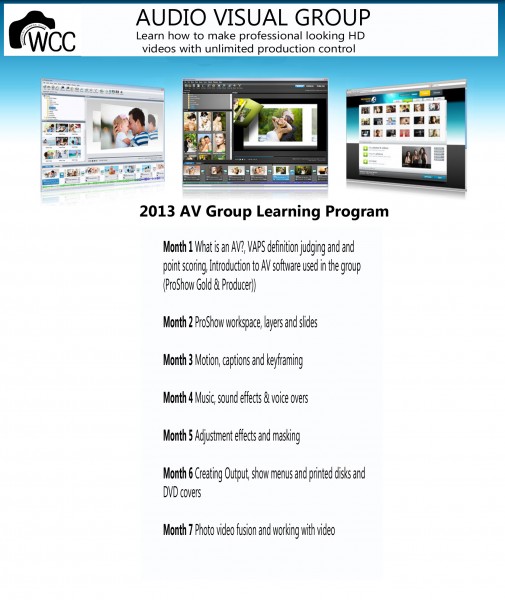 Comments Off

on AV Group Casual Night
more...
by Stephen Edmonds on Dec.04, 2012, under Competitions
Tonight was our end of year night where the aggregate score winners from throughout the year were announced:
A Grade Print – Vicki Moritz
A Grade EDI – Vicki Moritz
B Grade Print – Ian Haley
B Grade EDI – Felix Shparberg
Members had also submitted their best images from throughout the year, judged in this case by Landon Abbott and Stuart De Silva from S M L XL- Photographic Print Bureau.
Mono Prints
3rd: Rosie Hughes – Pyramid at the Louvre
2nd: Vicki Moritz – Yarra-bank Winter
1st: Paul Spence – The Pinnacles
Open Prints
3rd: Vicki Moritz – Evening at Blackrock
2nd: Ron Weatherhead – Love Birds
1st: Leif Andersen – Sunrise Wannaka Tree
Electronic Digital Images(EDI)
3rd: Rosie Hughes – LAKE DISTRICT SUNRISE
2nd: Andy Armitage – Packing Up
1st: Paul Spence – Cat Bay
Ian Hansen, our outgoing president, announced the winner of the "Bugs / Creepy Crawlies" President's Trophy being:
Michelle Golden – Creepy Crawlie Big Claws Big Wings
Thank you to all that came to support the evening and especially all that took part.
Comments Off

on End of Year Results for 2012
more...