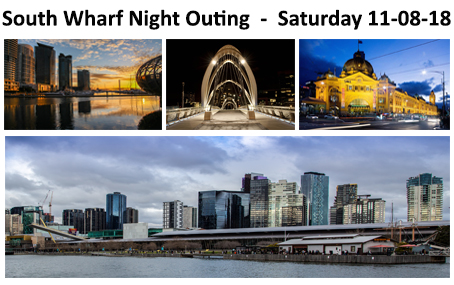 Our outing for August will be to South Wharf during late afternoon and evening on Saturday 11 August 2018.
South Wharf Precinct Photography
Sunset shoot (sunset at 5.41PM)
Elevated Vantage Point Photography
Dinner together
Possible Photography from King Street Bridge
Possible Photography of the Flinders Street Station Building which has just been refurbished
We will meet at 3.45PM at South Wharf. The outing would expect to conclude at about 9PM.
Please register at outings@waverleycameraclub.org by 5PM Thursday 9 August 2018. Final details will be sent to you once we have the final numbers.